SmART Initiative Corcoran Garage Art Wrap Install is Underway!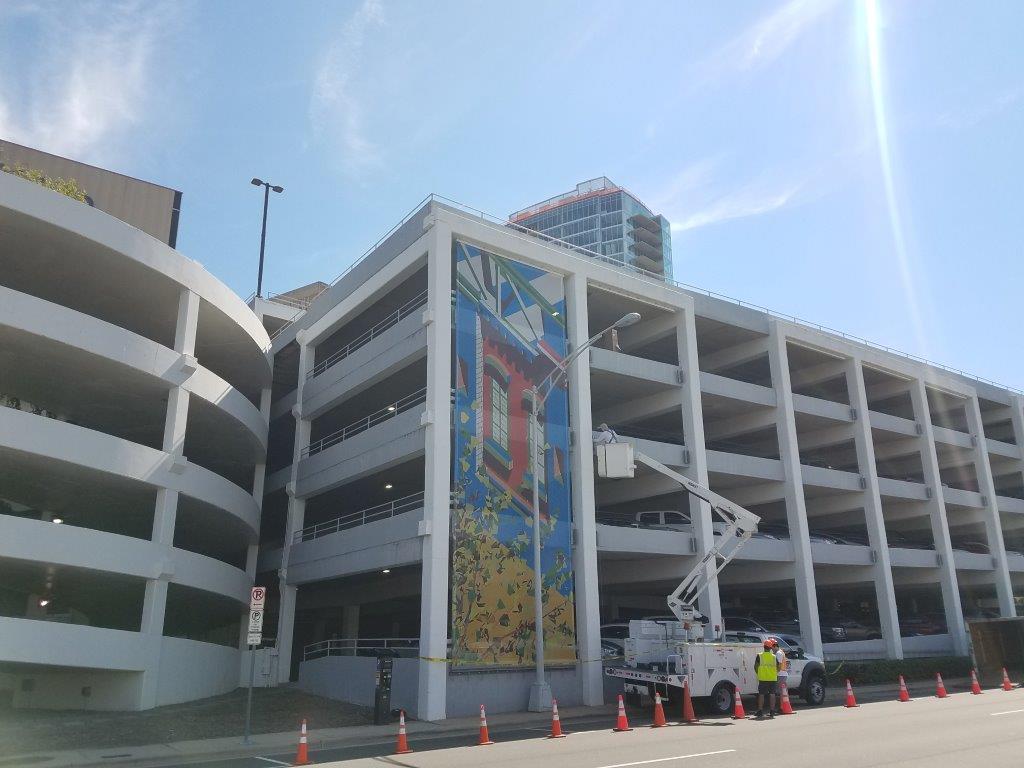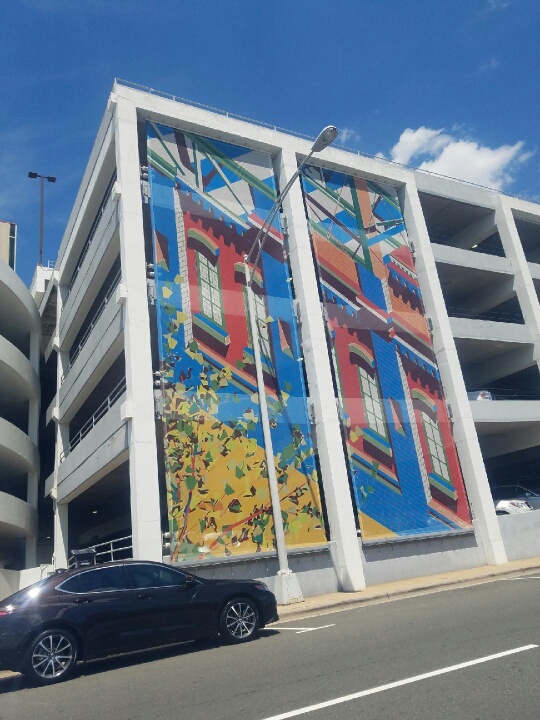 Installation began today of the first major public art work of the Durham SmART Initiative - The Corcoran Garage Art Wrap, which creates a monumental signature gateway element for the Blackwell/Corcoran/Foster SmART Corridor. The art wrap is designed by nationally recognized public artist Olalekan (LEk) Jeyifous, who was selected from a competitive and rigorous review of 107 artist applications from across the United States. Local vendors Steel City Services, LLC, and Mosca Design are key partners in fabrication and installation.
The Durham SmART Initiative is part of the North Carolina Arts Council's statewide SmART Initiative which supports the transformation of downtowns through arts driven economic development. Working with the Durham Arts Council as the project's lead local agency, the N.C. Arts Council provides significant leadership and funds toward creative placemaking along the rapidly-transforming Blackwell, Corcoran, Foster Street downtown corridor to create a vibrant arts and entertainment district.
Major funders and partners also include the National Endowment for the Arts "Our Town" grant, the City of Durham, Durham County, Durham Arts Council, Capitol Broadcasting Company, Duke University, Downtown Durham, Inc., Nasher Museum of Art, Durham Convention & Visitors Bureau, and Durham Area Designers. Since 2012, over 26 local, state and national project partners have been participating in and supporting this major SmART Initiative. The Durham Arts Council and North Carolina Arts Council also thank the City of Durham for assisting and supporting the City approval process and helping to coordinate installation of the Corcoran Garage Wrap on the City-owned Corcoran Garage structure which was built in 1964.
The Durham Arts Council (DAC) worked with internationally acclaimed public art and urban designer Mikyoung Kim along with 180 businesses and over 200 individual community stakeholders to complete and unveil the SmART Vision Plan in June 2015. The Durham SmART Vision Plan is a multi-year, $10 million public art and urban design strategy. More information is at www.smartdurham.org