LIBERTY WAREHOUSE ART WALL
PIXEL WALL ART INSTALLATION & OPENING CEREMONY
The Liberty Warehouse Wall at Durham Central Park has new interactive public art on display and the Durham community was invited to celebrate its arrival during an opening ceremony held on Sunday, November 4, 2018 at 2 p.m.

Hosted by the City of Durham and Durham Central Park, the opening ceremony took place on the east side of park, at 501 Foster St. and community members had the opportunity to meet the artist collective behind the mural, Pixel Patch Creative, and create pixel murals of their own. The pixel art wall mural marks the second major public art installation along the Durham SmART corridor.
The public art installation, titled A Story Goes On, was created to facilitate an interactive, engaging artistic experience in the heart of downtown Durham in which visitors are encouraged to create murals using moveable pixel blocks. To celebrate the region's incredible artistic legacy, The Story Goes On, provides space for emerging creative visions and pays particular tribute to local visionaries and thought leaders who have used their craft to advance social change. Read more
RECENT COMMUNITY CREATIONS ON PIXEL WALL - JUNE 2019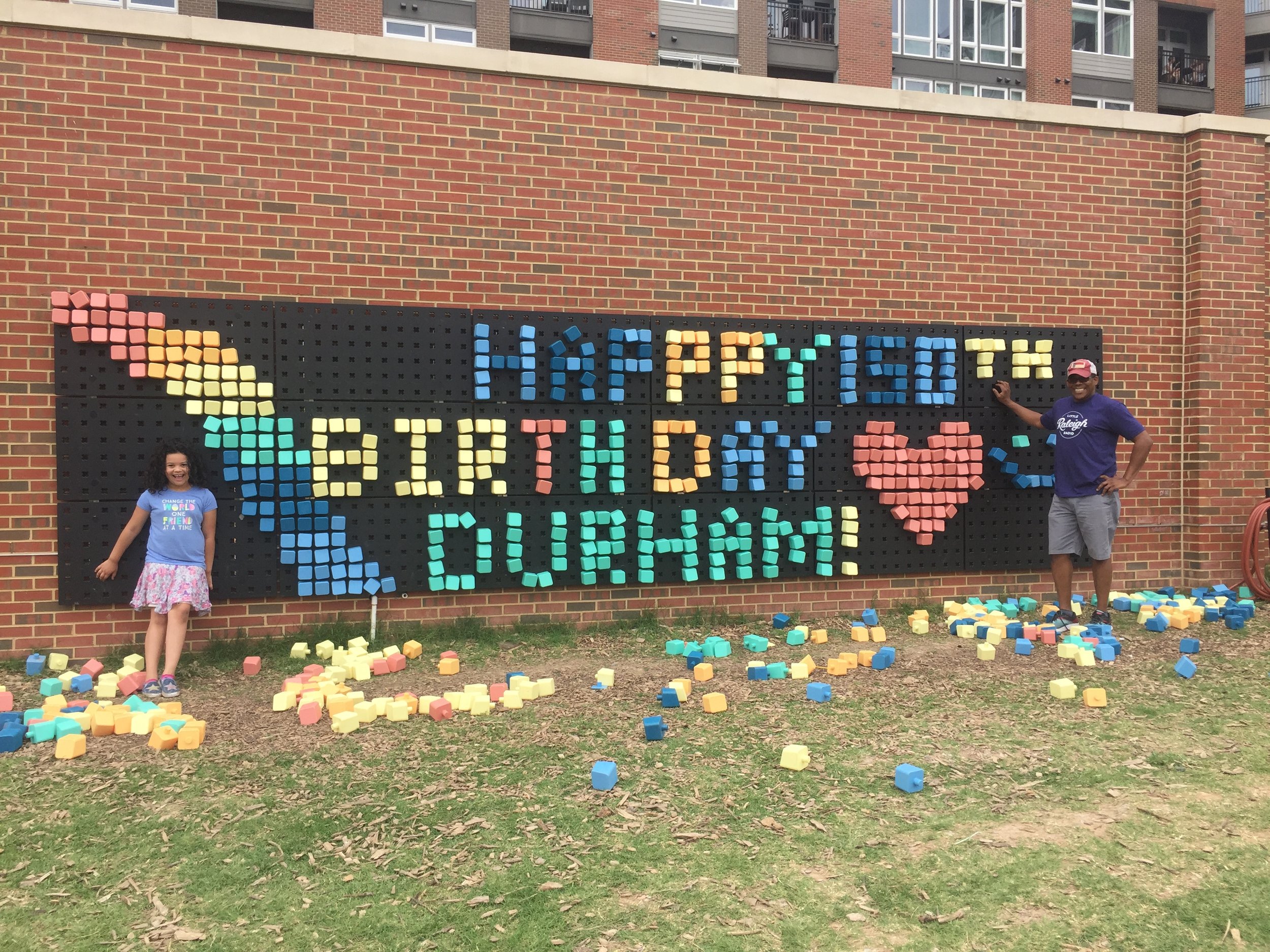 ARTIST SELECTION
Noa Younse and Jennifer Hiser have been selected as the artist team to design and install public art for the Liberty Warehouse Wall. Their selection follows a participatory review process of 104 artist applications from across the United States responding to a national call for qualifications released in September 2017, and will mark a second major public art installation along the Durham SmART Vision Plan corridor.
The Durham Central Park district along the SmART Corridor in downtown Durham will be the site for an exciting permanent public art installation that will foster a unique sense of place. The site of the proposed art wall is a newly constructed brick wall that forms the northeastern boundary of the park and encloses the neighboring Liberty Warehouse Apartments.
Artist selection is underway with anticipated completion of the project in August 2018. For more information on this project contact: Erin Kauffman, Executive Director of Durham Central Park 919.794.8194 erin.kauffman@durhamcentralpark.org